Careers
Join Our Team Today!
Built upon a tradition of pride and craftmanship. Susquehanna Glass Company a the leader in glass decorating.
At Susquehanna Glass Company, we are always looking for people to bring their passion with them to work, and to be a part of a 3rd generation family-owned business. Please, feel free and submit your application today!
Our goal is to create long lasting gifts for the everyday life at the highest quality. We understand how frustrating finding the perfect gift can be. As a matter of fact, that is one of the reasons why we strived as a company for 100 plus years. We know how to share our passion and creativity on producing a truly unique gift.
Follow these steps to submit your application
1. Download application
2. Open & fill out the form completely
3. Save to desktop
4. Fill out the contact form located on the right side of the page.
5. Click Choose File, attach the application you saved
6. Click submit!
Our Open Positions
---
Production Associates
Masking, Packaging & Picking
Susquehanna Glass Company is looking for 5 fully committed, reliable individuals that can be crossed trained throughout multiple departments. As a newly hired associated you will be trained on the fundamentals of each department.
The position details as follows:
Masking: Maskers are responsible for creating and applying the acetate sheet (contact paper) to glassware. After the decal is applied, you will use tape to mask out any nearby areas that may get hit by the over spray.
Packaging: Packagers are responsible for cleaning packaging materials, loading items into containers, and weighing and labeling the items appropriately. They also perform final checks for defective items, ensure all items make it to the loading area or inventory, and keep detailed records of materials and shipments.
Picking: Pickers are responsible for selecting merchandise from shelves and prepares items for maskers, packagers and shipping.
These positions for employment are for 40 hours per week with the potential to grow within the company. Full time positions are earned based off of performance, consistency and attendance.
Currently we are only working 1st shift and on 12 hour shifts from 6am – 6pm. Our standard working hours are from 7am – 4:30pm Monday – Friday, mandatory Saturdays when necessary.
Requirements
Maintaining your daily quota for packing, masking or picking
Great work ethic with great time management
Willing to be adaptable working in multiple departments
Standing for 8 hours – you will have two 15-minute breaks along with 30-minute lunch break
May be repetitive – if trained in multiple departments, it will help break the day up
Additional Information
Open to applicants who do not have a high school diploma/GED or college diploma
Fair Chance Job
A good fit for applicants with gaps in their resume, or who have been out of the workforce for the past 6 months or more
A good job for someone just entering the workforce or returning to the workforce with limited experience and education
A job for which all ages, including older job seekers, are encouraged to apply
Become a Hand Cut Artisan
---
The Art of Hand Cutting
Susquehanna Glass Company offers over a hundred different hand cut patterns, as well as several font options for single and triple letter monograms. This freehand craftsmanship makes each piece a true original. No machine can truly duplicate the work of a master craftsman whose steady hand and trained eye practice the precise and difficult art of glass cutting.
Susquehanna Glass Company is one of the last remaining American factories practicing the art of hand-cut glass.
If you have a steady hand and a creative mind, this may be the perfect fit for you. Contact us today to learn more about becoming a Hand Cut Artisan.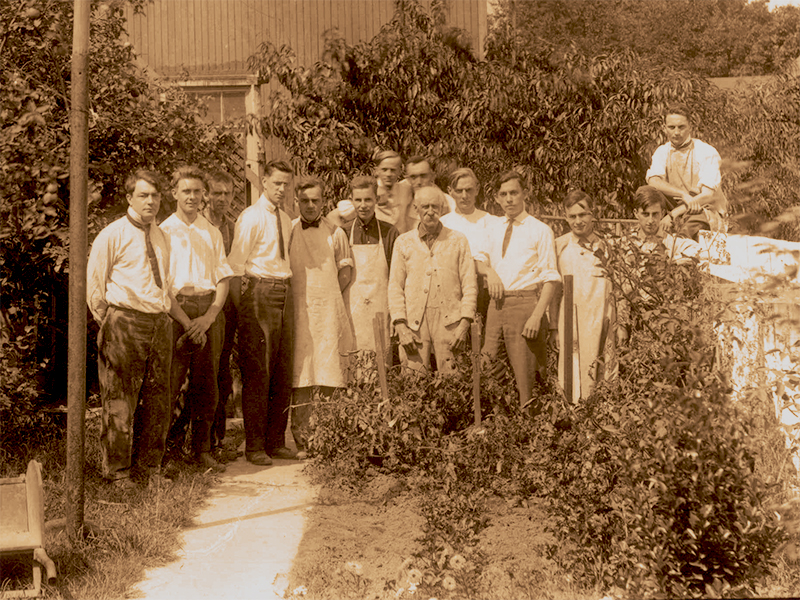 The Perks!
Flexible Work Schedule
Life happens. We'll help you work where you need to, when you need to.
Room To Grow
Learning is built into every role here. You'll get coaching and training and take ownership.
You're Treated Like People
Employees are people, with families, hobbies, and lives outside of work. We all work together to get the job done.
Everyone Has A Voice
Growing doesn't know hierarchy. We make sure everyone is heard, considered and respected.
Benefits
Health Insurance
Dental & Vision Insurance
Life Insurance
Paid Time Off
Schedule Offerings
8 Hour Shifts
10 Hour Shifts
12 Hour Shifts
Weekends
Employee Discount
Employees enjoy product discounts for all our lines. Access to our free table for some product samples that did not make the cut!
Susquehanna Glass Company is proud to be an Equal Employment Opportunity employer. We do not discriminate based upon race, religion, color, national origin, sex (including pregnancy, childbirth, or related medical conditions), sexual orientation, gender identity, gender expression, age, status as a protected veteran, status as an individual with a disability, genetic information, or other applicable legally protected characteristics.